Vibration Motors - Direct Current Motovibrator
Kem-P KVM-DC Industrial Vibration Motors; It is a new generation vibration motor that works without coal and brush by converting the energy it receives from a power source such as a battery or generator to 3 phase 24/12 Volts via DC converter. Kem-P KVM-DC Series Industrial Vibration Motors provide 2-Pole 3000 rpm and 4-Pole 1500 rpm, 12 V to 24 V operation options and centrifugal force between 97 kgf and 221 kgf. Kem-P KVM-DC Series Vibration Motors have ATEX II 2D Ext b IIIC T 120C Db and IP66 certificates for applications in hazardous environments with flammable and explosive dust. It can be used as a flow facilitator in vehicle-mounted hoppers to improve the homogeneous distribution of concrete material or as a plus to concrete pump grates to allow an efficient flow of fresh concrete.
Centrifugal force between 97kgf and 221kgf depending on the model
DC motor 1500 - 3.000 rpm 12V-24V
180 Watt
Concrete Pump
Concrete mixer
Building and Construction Sector
24V / DC
12V / DC
Gövde Ölçüleri -Overall Dimensions (mm)
Model
Type
Gövde
Size
Rif
A
B
C
D
ØE
F
G
L
M
ØN
P
Q
R
S
KVM-30-DC-241
01
--
241
125
145
109
100
58
60,5
70÷74
106
8,75
90
23
23
23
KVM-30-DC-242
01
--
241
125
145
109
100
58
60,5
70÷74
106
8,75
90
23
23
23
KVM-15-DC-241
01
--
241
125
145
109
100
58
60,5
70÷74
106
8,75
90
23
23
23
KVM-30-DC-121
01
--
241
125
145
109
100
58
60,5
70÷74
106
8,75
90
23
23
23
KVM-30-DC-122
01
--
241
125
145
109
100
58
60,5
70÷74
106
8,75
90
23
23
23
KVM-15-DC-121
01
--
241
125
145
109
100
58
60,5
70÷74
106
8,75
90
23
23
23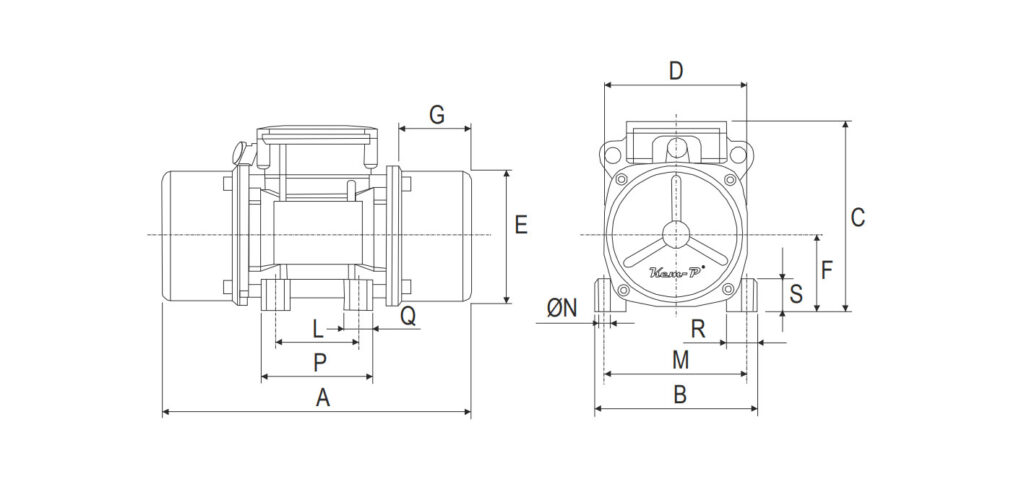 | Model - Type | Gövde Size | II 2D Sınıfı Class | Santrifüj Kuvveti Centrifugal Force ( Kg/F ) 50Hz | Santrifüj Kuvveti Centrifugal Force ( Kg/F ) 60Hz | Santrifüj Kuvveti Centrifugal Force ( KN ) 50Hz | Santrifüj Kuvveti Centrifugal Force ( KN ) 60Hz | (*)Statik Moment Statical Moment ( Kgmm ) 50Hz | (*)Statik Moment Statical Moment ( Kgmm ) 60Hz | Ağırlık Weight ( Kg ) 50Hz | Ağırlık Weight ( Kg ) 60Hz | Giriş Gücü Input Power ( W ) 50Hz | Giriş Gücü Input Power ( W ) 60Hz | Nominal Akım Nom. Current ( A ) 400V 50Hz | Nominal Akım Nom. Current ( A ) 460V 60Hz | IA - IN 50Hz | IA - IN 60Hz |
| --- | --- | --- | --- | --- | --- | --- | --- | --- | --- | --- | --- | --- | --- | --- | --- | --- |
| KVM-15-01-001 | 01 | 120° | 23 | 22 | 0,226 | 0,216 | 9,1 | 6,1 | 4,5 | 4,3 | 80 | 85 | 0,20 | 0,20 | 2,00 | 2,00 |
| KVM-15-01-002 | 01 | 120° | 31 | 33 | 0,304 | 0,324 | 12,3 | 9,1 | 4,7 | 4,5 | 80 | 85 | 0,20 | 0,20 | 2,00 | 2,00 |
| KVM-15-01-003 | 01 | 120° | 53 | 55 | 0,520 | 0,540 | 21,1 | 15,2 | 5,2 | 4,9 | 95 | 105 | 0,21 | 0,21 | 2,10 | 2,50 |
| KVM-15-01-004 | 01 | 120° | 84 | 88 | 0,824 | 0,863 | 33,4 | 24,3 | 6 | 5,6 | 95 | 105 | 0,21 | 0,21 | 3,30 | 3,70 |
| KVM-15-02-001 | 02 | 120° | 214 | 99 | 2,09 | 1,952 | 85,1 | 54,9 | 11 | 10 | 180 | 190 | 0,45 | 0,37 | 2,20 | 2,50 |
| KVM-15-02-003 | 02 | 120° | 242 | 239 | 2,374 | 2,345 | 96,2 | 66,0 | 11,5 | 10,7 | 240 | 270 | 0,52 | 0,45 | 2,40 | 2,50 |
| KVM-15-03-001 | 03-b | 120° | 319 | 319 | 3,129 | 3,129 | 126,8 | 88,1 | 17,2 | 16 | 270 | 285 | 0,60 | 0,55 | 2,50 | 2,50 |
| KVM-15-03-002 | 03-b | 120° | 415 | 418 | 4,071 | 4,101 | 165,0 | 115,4 | 18,6 | 17 | 310 | 370 | 0,66 | 0,66 | 2,60 | 3,00 |
| KVM-15-03-003 | 03-b | 120° | 512 | 597 | 5,023 | 5,857 | 203,6 | 164,8 | 20,6 | 19,2 | 340 | 400 | 0,71 | 0,71 | 3,20 | 3,90 |
| KVM-15-04-001 | 04-a | 120° | 735 | 704 | 7,210 | 6,906 | 292,2 | 194,4 | 28 | 25,6 | 475 | 525 | 0,92 | 0,90 | 3,00 | 3,20 |
| KVM-15-04-002 | 04-b | 120° | 865 | 823 | 8,486 | 8,074 | 343,9 | 227,2 | 30,3 | 27 | 570 | 630 | 1,10 | 1,08 | 3,00 | 3,30 |
| KVM-15-04-003 | 04-b | 120° | 1110 | 1010 | 10,889 | 9,908 | 441,3 | 278,9 | 34,2 | 28,5 | 600 | 680 | 1,16 | 1,14 | 3,60 | 3,90 |
| KVM-15-04-004 | 04-c | 120° | 1306 | 1246 | 12,812 | 12,223 | 519,3 | 344,0 | 36,3 | 31,3 | 720 | 816 | 1,36 | 1,30 | 4,00 | 4,00 |
| KVM-15-05-001 | 05-b | 120° | 1477 | 1604 | 14,489 | 15,735 | 587,2 | 442,9 | 45 | 42,8 | 950 | 1100 | 1,50 | 1,50 | 4,10 | 4,40 |
| KVM-15-05-002 | 05-a | 120° | 1765 | 1920 | 17,315 | 18,835 | 701,7 | 530,1 | 46,7 | 34 | 1140 | 1185 | 1,80 | 1,80 | 4,40 | 4,70 |
| KVM-15-05-003 | 05-a | 120° | 2089 | 2092 | 20,493 | 20,523 | 830,6 | 577,6 | 52,9 | 35 | 1200 | 1250 | 2,20 | 2,00 | 4,50 | 4,50 |
| KVM-15-05-004 | 05-a | 120° | 2379 | 2358 | 23,338 | 23,112 | 945,8 | 650,5 | 54,5 | 35,4 | 1300 | 1400 | 2,30 | 2,10 | 4,90 | 4,90 |
| KVM-15-06-001 | 06-a | -- | 2568 | 2520 | 25,192 | 24,721 | 1021,0 | 695,8 | 105 | 87 | 1450 | 1525 | 2,56 | 2,40 | 5,80 | 5,80 |
| KVM-15-06-002 | 06-a | -- | 2758 | 2519 | 27,056 | 24,711 | 1096,5 | 695,5 | 107 | 88 | 1700 | 1800 | 3,30 | 3,10 | 6,00 | 5,90 |
| KVM-15-06-003 | 06-a | -- | 3150 | 3142 | 30,902 | 30,823 | 1252,4 | 867,5 | 109 | 90 | 2000 | 2100 | 3,65 | 3,60 | 6,40 | 6,40 |
| KVM-15-07-001 | 07-a | -- | 3844 | 3780 | 37,710 | 37,062 | 1528,3 | 1043,7 | 146 | 92 | 2200 | 2450 | 4,60 | 4,70 | 6,70 | 6,70 |
| KVM-15-07-002 | 07-a | -- | 4403 | 4110 | 43,193 | 40,319 | 1750,6 | 1134,8 | 148 | 95 | 2900 | 3100 | 5,10 | 5,10 | 7,00 | 6,90 |
| KVM-15-08-001 | 08-a | -- | 5552 | 5189 | 54,465 | 50,904 | 2207,4 | 1432,7 | 182 | 258 | 3300 | 3300 | 5,40 | 4,90 | 7,00 | 6,90 |
| KVM-15-08-002 | 08-a | -- | 6224 | 6194 | 61,057 | 60,763 | 2474,6 | 1710,2 | 184 | 267 | 4350 | 4500 | 7,60 | 7,40 | 7,20 | 7,10 |
| KVM-15-09-001 | 09-a | -- | 6640 | 6607 | 65,138 | 64,815 | 2640,0 | 1824,2 | 293 | 275 | 6000 | 6000 | 10,50 | 9,50 | 6,70 | 6,70 |
| KVM-15-09-002 | 09-a | -- | 7408 | 7189 | 72,672 | 70,524 | 2845,3 | 1984,9 | 296 | 275 | 6500 | 6800 | 11,00 | 11,00 | 7,10 | 6,90 |
| KVM-15-09-003 | 09-a | -- | 8195 | 8021 | 80,393 | 78,686 | 3258,2 | 2214,6 | 299 | 275 | 7000 | 8000 | 11,50 | 11,50 | 7,00 | 7,00 |
| KVM-15-10-001 | 10-a | -- | 9611 | 9079 | 94,284 | 89,065 | 3821,2 | 2506,7 | 351 | 275 | 7500 | 8500 | 12,50 | 12,00 | 6,70 | 6,20 |
| KVM-15-10-002 | 10-a | -- | 11444 | 10878 | 112,266 | 106,713 | 4550,0 | 3003,4 | 361 | 275 | 11000 | 11000 | 19,00 | 16,00 | 7,00 | 6,80 |

Gövde Ölçüleri -Overall Dimensions (mm)
Model
Type
Gövde
Size
Rif
A
B
C
D
ØE
F
G
L
M
ØN
P
Q
R
S
KVM-15-01-001
01
1
242,5
125
145
109
100
58
60,5
62÷74
106
8,75
4
90
23
23
23
KVM-15-01-002
01
1
242,5
125
145
109
100
58
60,5
62÷74
106
8,75
4
90
23
23
23
KVM-15-01-003
01
1
242,5
125
145
109
100
58
60,5
62÷74
106
8,75
4
90
23
23
23
KVM-15-01-004
01
1
242,5
125
145
109
100
58
60,5
62÷74
106
8,75
4
90
23
23
23
KVM-15-02-001
02
1
300
153
182
135
123
72
74,5
90
125
13,5
4
117
27
27
30
KVM-15-02-003
02
1
300
153
182
135
123
72
74,5
90
125
13,5
4
117
27
27
30
KVM-15-03-001
03-b
1
365
190
208
187
155
90,5
96,5
100÷105
140÷160
12
4
133
33
40
45
KVM-15-03-002
03-b
1
365
190
208
187
155
90,5
96,5
100÷105
140÷160
12
4
133
33
40
45
KVM-15-03-003
03-b
1
365
190
208
187
155
90,5
96,5
100÷105
140÷160
12
4
133
33
40
45
KVM-15-04-001
04-a
1
400
210
237
215
182
104
92
120
170
17
4
160
40
50
53,5
KVM-15-04-002
04-b
1
439
210
237
215
182
104
112,5
120
170
17
4
160
40
50
53,5
KVM-15-04-003
04-b
1
439
210
237
215
182
104
112,5
120
170
17
4
160
40
50
53,5
KVM-15-04-004
04-b
1
439
210
237
215
182
104
112,5
120
170
17
4
160
40
50
53,5
KVM-15-05-001
05-b
1
482
235,5
259
258
221
117
112
140÷150
190
18,5
4
194
50
51
56
KVM-15-05-002
05-b
1
482
235,5
259
258
221
117
112
140÷150
190
18,5
4
194
50
51
56
KVM-15-05-003
05-b
1
482
235,5
259
258
221
117
112
140÷150
190
18,5
4
194
50
51
56
KVM-15-05-004
05-b
1
482
235,5
259
258
221
117
112
140÷150
190
18,5
4
194
50
51
56
KVM-15-06-001
06-a
2
580
280
275
280
242
133
114
155
225
22
4
252,5
**
64
30
KVM-15-06-002
06-a
2
580
280
275
280
242
133
114
155
225
22
4
252,5
**
64
30
KVM-15-06-003
06-a
2
580
280
275
280
242
133
114
155
225
22
4
252,5
**
64
30
KVM-15-07-001
07-a
2
595
320
315
327
283
160
110
155
255
22
4
284
**
74
35
KVM-15-07-002
07-a
2
595
320
315
327
283
160
110
155
255
22
4
284
**
74
35
KVM-15-08-001
08-a
2
667
342
342
354
310
172
108
180
280
25
4
311
**
71
30
KVM-15-08-002
08-a
2
667
342
342
354
310
172
108
180
280
25
6
311
**
71
40
KVM-15-09-001
09-a
3
745
395
405
398
359,5
196
115
100x2
320
28
6
340
**
78
40
KVM-15-09-002
09-a
3
745
395
405
398
359,5
196
115
100x2
320
28
6
340
**
78
40
KVM-15-09-003
09-a
3
745
395
405
398
359,5
196
115
100x2
320
28
6
340
**
78
40
KVM-15-10-001
10-a
3
816
463
411,5
467
412
222
116
125x2
380
38
6
398
**
88
50
KVM-15-10-002
10-a
3
816
463
431,5
467
412
222
116
125x2
380
38
6
398
**
88
50
| Model Type | Gövde Size | II 2D Sınıfı Class | Santrifüj Kuvveti Centrifugal Force ( Kg/F ) 50Hz | Santrifüj Kuvveti Centrifugal Force ( Kg/F ) 60Hz | Santrifüj Kuvveti Centrifugal Force ( KN ) 50Hz | Santrifüj Kuvveti Centrifugal Force ( KN ) 60Hz | (*)Statik Moment Statical Moment ( Kgmm ) 50Hz | (*)Statik Moment Statical Moment ( Kgmm ) 60Hz | Ağırlık Weight ( Kg ) 50Hz | Ağırlık Weight ( Kg ) 60Hz | Giriş Gücü Input Power ( W ) 50Hz | Giriş Gücü Input Power ( W ) 60Hz | Nominal Akım Nom. Current ( A ) 400V 50Hz | Nominal Akım Nom. Current ( A ) 460V 60Hz | IA / IN 50Hz | IA / IN 60Hz |
| --- | --- | --- | --- | --- | --- | --- | --- | --- | --- | --- | --- | --- | --- | --- | --- | --- |
| KVM-10-03-001 | 03-b | 120° | 185 | 266 | 1,815 | 2,609 | 165,5 | 165,3 | 19 | 19 | 240 | 280 | 0,53 | 0,54 | 2,00 | 2,00 |
| KVM-10-03-002 | 03-b | 120° | 228 | 328 | 2,237 | 3,218 | 204,0 | 203,8 | 20,5 | 20,5 | 260 | 300 | 0,55 | 0,56 | 2,00 | 210 |
| KVM-10-04-001 | 04-a | 120° | 312 | 450 | 3,061 | 4,415 | 279,1 | 279,6 | 29 | 29,6 | 320 | 350 | 0,70 | 0,68 | 2,80 | 290 |
| KVM-10-04-002 | 04-b | 120° | 582 | 627 | 5,199 | 6,151 | 474,1 | 389,5 | 35,7 | 33 | 450 | 520 | 0,95 | 0,95 | 2,90 | 3,10 |
| KVM-10-05-001 | 05-b | 120° | 793 | 806 | 7,779 | 7,907 | 709,4 | 500,7 | 47,3 | 44,8 | 540 | 600 | 1,05 | 0,98 | 3,00 | 3,00 |
| KVM-10-05-002 | 05-b | 120° | 982 | 1069 | 9,633 | 10,478 | 878,5 | 664,1 | 54,2 | 50,9 | 720 | 800 | 1,40 | 1,30 | 3,00 | 3,10 |
| KVM-10-05-003 | 05-c | 120° | 1215 | 1210 | 11,919 | 11,870 | 1086,9 | 751,7 | 58,3 | 52,8 | 760 | 810 | 1,44 | 1,44 | 3,10 | 3,10 |
| KVM-10-05-004 | 05-c | 120° | 1355 | 1330 | 12,871 | 12,851 | 1212,0 | 826,0 | 60 | 55 | 800 | 900 | 1,60 | 1,60 | 3,30 | 3,30 |
| KVM-10-05-005 | 05-c | 120° | 1572 | 1571 | 15,421 | 15,412 | 1406,3 | 976,0 | 67 | 60,5 | 900 | 980 | 1,80 | 1,80 | 3,40 | 3,40 |
| KVM-10-06-001 | 06-b | -- | 1644 | 1693 | 16,128 | 16,608 | 1470,7 | 1051,7 | 113 | 107,5 | 1000 | 1200 | 2,80 | 2,80 | 3,70 | 3,70 |
| KVM-10-06-002 | 06-b | -- | 1823 | 1968 | 17,884 | 19,306 | 1630,8 | 1222,6 | 119 | 113,5 | 1200 | 1400 | 3,00 | 3,00 | 4,00 | 4,10 |
| KVM-10-06-003 | 06-c | -- | 2234 | 2376 | 21,916 | 23,309 | 1998,5 | 1476,1 | 128 | 120 | 1500 | 1800 | 3,20 | 3,20 | 4,50 | 4,60 |
| KVM-10-07-001 | 07-b | -- | 3003 | 3290 | 29,459 | 32,275 | 2686,4 | 2043,9 | 168 | 169 | 2000 | 2100 | 4,40 | 4,20 | 5,00 | 5,20 |
| KVM-10-08-001 | 08-b | -- | 4169 | 4591 | 40,898 | 45,038 | 3729,5 | 2852,1 | 210 | 200 | 2600 | 3000 | 5,00 | 5,00 | 5,50 | 5,90 |
| KVM-10-08-002 | 08-b | -- | 4591 | 4988 | 45,038 | 48,932 | 4107,0 | 3098,7 | 221 | 211 | 3000 | 3300 | 6,50 | 6,50 | 5,80 | 6,00 |
| KVM-10-08-003 | 08-b | -- | 5009 | 5417 | 49,138 | 53,141 | 4480,9 | 3365,2 | 226 | 214 | 4000 | 4650 | 8,20 | 8,20 | 5,80 | 6,10 |
| KVM-10-09-001 | 09-b | -- | 6051 | 5831 | 59,360 | 57,202 | 5413,0 | 3622,4 | 333 | 315 | 4500 | 4900 | 8,80 | 8,80 | 5,50 | 5,30 |
| KVM-10-09-002 | 09-b | -- | 6952 | 6493 | 68,199 | 63,696 | 6219,0 | 4033,6 | 340 | 320 | 5500 | 6000 | 9,50 | 9,50 | 6,00 | 5,80 |
| KVM-10-09-003 | 09-c | -- | 8876 | 8847 | 87,074 | 86,789 | 7940,1 | 5496,0 | 377 | 344 | 7500 | 8000 | 14,40 | 13,00 | 6,20 | 6,20 |
| KVM-10-09-004 | 09-c | -- | 9800 | 9822 | 96,138 | 96,354 | 8766,7 | 6101,7 | 400 | 390 | 8200 | 8500 | 14,80 | 13,20 | 6,30 | 6,30 |
| KVM-10-10-001 | 10-b | -- | 10210 | 9916 | 100,160 | 97,276 | 9133,5 | 6160,1 | 428 | 405 | 8500 | 8800 | 15,00 | 14,30 | 6,50 | 6,30 |
| KVM-10-10-002 | 10-c | -- | 12916 | 12519 | 126,706 | 122,811 | 11554,2 | 7777,1 | 476 | 443 | 9800 | 10800 | 17,00 | 16,70 | 6,40 | 6,30 |
| KVM-10-10-003 | 10-c | -- | 13788 | 13503 | 135,260 | 132,464 | 12334,3 | 8388,4 | 480 | 448 | 10000 | 10400 | 17,20 | 17,00 | 6,50 | 6,40 |
| KVM-10-11-001 | 11-a | -- | 15958 | 14940 | 156,548 | 146,561 | 14275,4 | 9281,1 | 605 | 554 | 12800 | 13000 | 19,00 | 18,50 | 5,70 | 5,40 |
| KVM-10-11-002 | 11-b | -- | 18931 | 19600 | 185,713 | 192,276 | 16935,0 | 12176,0 | 660 | 599 | 13500 | 14000 | 25,50 | 24,50 | 5,70 | 5,90 |
| KVM-10-11-003 | 11-b | -- | 20949 | 19584 | 205,510 | 192,119 | 18740,2 | 12166,0 | 670 | 606 | 14500 | 15200 | 26,50 | 25,50 | 5,40 | 5,20 |

Gövde Ölçüleri -Overall Dimensions (mm)
| Model Type | Gövde Size | Rif | A | B | C | D | ØE | F | G | L | M | ØN | P | Q | R | S | |
| --- | --- | --- | --- | --- | --- | --- | --- | --- | --- | --- | --- | --- | --- | --- | --- | --- | --- |
| KVM-10-03-001 | 03-b | 1 | 365 | 190 | 208 | 187 | 155 | 90,5 | 96,5 | 100÷105 | 140÷160 | 12 | 4 | 133 | 33 | 40 | 45 |
| KVM-10-03-002 | 03-b | 1 | 365 | 190 | 208 | 187 | 155 | 90,5 | 96,5 | 100÷105 | 140÷160 | 12 | 4 | 133 | 33 | 40 | 45 |
| KVM-10-04-001 | 04-a | 1 | 400 | 210 | 237 | 215 | 182 | 104 | 92 | 120 | 170 | 17 | 4 | 160 | 40 | 50 | 53,5 |
| KVM-10-04-002 | 04-b | 1 | 439 | 210 | 237 | 215 | 182 | 104 | 112,5 | 120 | 170 | 17 | 4 | 160 | 40 | 50 | 53,5 |
| KVM-10-05-001 | 05-b | 1 | 482 | 235,5 | 259 | 258 | 221 | 117 | 112 | 140÷150 | 190 | 18,5 | 4 | 194 | 50 | 51 | 56 |
| KVM-10-05-002 | 05-b | 1 | 482 | 235,5 | 259 | 258 | 221 | 117 | 112 | 140÷150 | 190 | 18,5 | 4 | 194 | 50 | 51 | 56 |
| KVM-10-05-003 | 05-c | 1 | 566 | 235,5 | 259 | 258 | 221 | 117 | 154 | 140÷150 | 190 | 18,5 | 4 | 194 | 50 | 51 | 56 |
| KVM-10-05-004 | 05-c | 1 | 566 | 235,5 | 259 | 258 | 221 | 177 | 154 | 140÷150 | 190 | 18,5 | 4 | 194 | 50 | 51 | 56 |
| KVM-10-05-005 | 05-c | 1 | 566 | 235,5 | 259 | 258 | 221 | 117 | 154 | 140÷150 | 190 | 18,5 | 4 | 194 | 50 | 51 | 56 |
| KVM-10-06-001 | 06-b | 2 | 650 | 280 | 275 | 280 | 242 | 133 | 149 | 155 | 225 | 22 | 4 | 252,5 | ** | 64 | 30 |
| KVM-10-06-002 | 06-b | 2 | 650 | 280 | 275 | 280 | 242 | 133 | 149 | 155 | 225 | 22 | 4 | 252,5 | ** | 64 | 30 |
| KVM-10-06-003 | 06-c | 2 | 720 | 280 | 275 | 280 | 242 | 133 | 184 | 155 | 225 | 22 | 4 | 252,5 | ** | 64 | 30 |
| KVM-10-07-001 | 07-b | 2 | 687 | 320 | 315 | 327 | 283 | 160 | 157 | 155 | 255 | 22 | 4 | 284 | ** | 74 | 35 |
| KVM-10-08-001 | 08-b | 2 | 793 | 342 | 342 | 354 | 310 | 172 | 172 | 180 | 280 | 25 | 4 | 311 | ** | 71 | 40 |
| KVM-10-08-002 | 08-b | 2 | 793 | 342 | 342 | 354 | 310 | 172 | 172 | 180 | 280 | 25 | 4 | 311 | ** | 71 | 40 |
| KVM-10-08-003 | 08-b | 2 | 793 | 342 | 342 | 354 | 310 | 172 | 172 | 180 | 280 | 25 | 4 | 311 | ** | 71 | 40 |
| KVM-10-09-001 | 09-b | 3 | 863 | 395 | 405 | 398 | 359,5 | 196 | 175 | 100x2 | 320 | 28 | 6 | 340 | ** | 78 | 40 |
| KVM-10-09-002 | 09-b | 3 | 863 | 395 | 405 | 398 | 359,5 | 196 | 175 | 100x2 | 320 | 28 | 6 | 340 | ** | 78 | 40 |
| KVM-10-09-003 | 09-c | 3 | 913 | 395 | 405 | 398 | 359,5 | 196 | 200 | 100x2 | 320 | 28 | 6 | 340 | ** | 78 | 40 |
| KVM-10-09-004 | 09-c | 3 | 913 | 395 | 405 | 398 | 359,5 | 196 | 200 | 100x2 | 320 | 28 | 6 | 340 | ** | 78 | 40 |
| KVM-10-10-001 | 10-b | 3 | 926 | 463 | 431,5 | 467 | 412 | 222 | 171 | 125x2 | 380 | 38 | 6 | 398 | ** | 88 | 50 |
| KVM-10-10-002 | 10-c | 3 | 998 | 463 | 431,5 | 467 | 412 | 222 | 202 | 125x2 | 380 | 38 | 6 | 398 | ** | 88 | 50 |
| KVM-10-10-003 | 10-c | 3 | 998 | 463 | 431,5 | 467 | 412 | 222 | 202 | 125x2 | 380 | 38 | 6 | 398 | ** | 88 | 50 |
| KVM-10-11-001 | 11-a | 4 | 1050 | 574 | 515 | 541 | 486 | 268,5 | 196 | 140x3 | 480 | 45 | 8 | 536 | ** | 115 | 50 |
| KVM-10-11-002 | 11-a | 4 | 1050 | 574 | 515 | 541 | 486 | 268,5 | 196 | 140x3 | 480 | 45 | 8 | 536 | ** | 115 | 50 |
| KVM-10-11-003 | 11-a | 4 | 1050 | 574 | 515 | 541 | 486 | 268,5 | 196 | 140x3 | 480 | 45 | 8 | 536 | ** | 115 | 50 |
| Model Type | Gövde Size | II 2D Sınıfı Class | Santrüfüj Kuvveti Centrifugal Force ( Kg/F ) 50Hz | Santrüfüj Kuvveti Centrifugal Force ( Kg/F ) 60Hz | Santrüfüj Kuvveti Centrifugal Force ( KN ) 50Hz | Santrüfüj Kuvveti Centrifugal Force ( KN ) 60Hz | (*)Statik Moment Statical Moment ( Kgmm ) 50Hz | (*)Statik Moment Statical Moment ( Kgmm ) 60Hz | Ağırlık Weight ( Kg ) 50Hz | Ağırlık Weight ( Kg ) 60Hz | Giriş Gücü Input Power ( W ) 50Hz | Giriş Gücü Input Power ( W ) 60Hz | Nominal Akım Nom. Current ( A ) 400V 50Hz | Nominal Akım Nom. Current ( A ) 460V 60Hz | IA / IN 50Hz | IA / IN 60Hz |
| --- | --- | --- | --- | --- | --- | --- | --- | --- | --- | --- | --- | --- | --- | --- | --- | --- |
| KVM-75-03-001 | 03-b | 120° | 104 | 150 | 1,020 | 1,472 | 165,4 | 165,7 | 19 | 19 | 180 | 210 | 0,46 | 0,48 | 1,50 | 1,60 |
| KVM-75-03-002 | 03-b | 120° | 128 | 185 | 1,256 | 1,815 | 203,6 | 204,3 | 20,5 | 20,5 | 200 | 230 | 0,50 | 0,51 | 1,50 | 1,80 |
| KVM-75-04-001 | 04-a | 120° | 176 | 253 | 1,727 | 2,482 | 279,9 | 279,4 | 29 | 29 | 240 | 300 | 0,62 | 0,65 | 1,50 | 1,80 |
| KVM-75-04-002 | 04-b | 120° | 277 | 382 | 2,717 | 3,747 | 440,52 | 421,9 | 34,5 | 34,5 | 300 | 360 | 0,75 | 0,95 | 1,90 | 2,10 |
| KVM-75-05-001 | 05-b | 120° | 420 | 596 | 4,120 | 5,847 | 668,0 | 658,2 | 47,5 | 47,5 | 420 | 440 | 1,12 | 1,12 | 2,00 | 2,20 |
| KVM-75-05-002 | 05-b | 120° | 552 | 794 | 5,415 | 7,789 | 827,2 | 876,9 | 54 | 53,3 | 450 | 500 | 1,30 | 1,20 | 2,50 | 2,90 |
| KVM-75-05-003 | 05-c | 120° | 602 | 853 | 5,906 | 8,368 | 957,4 | 942,1 | 58 | 58,3 | 530 | 560 | 1,53 | 1,41 | 3,00 | 3,50 |
| KVM-75-05-004 | 05-c | 120° | 712 | 1025 | 6,985 | 10,055 | 1132,3 | 1132,0 | 61,8 | 61,8 | 550 | 600 | 1,60 | 1,40 | 3,20 | 4,00 |
| KVM-75-06-001 | 06-b | -- | 1025 | 1480 | 10,055 | 14,519 | 2624,0 | 1634,5 | 118,5 | 118,5 | 1100 | 1200 | 2,30 | 2,30 | 3,90 | 4,10 |
| KVM-75-06-002 | 06-c | -- | 1257 | 1806 | 12,331 | 17,717 | 1999,1 | 1994,6 | 128 | 128 | 1150 | 1250 | 2,40 | 2,40 | 4,20 | 4,90 |
| KVM-75-07-001 | 07-b | -- | 1689 | 2431 | 16,569 | 23,004 | 2686,1 | 2589,8 | 164 | 164 | 1600 | 1800 | 4,00 | 3,90 | 4,20 | 4,90 |
| KVM-75-08-001 | 08-b | -- | 2582 | 3739 | 25,329 | 36,680 | 4106,3 | 4129,4 | 221 | 221 | 2200 | 2400 | 5,50 | 5,30 | 3,90 | 4,50 |
| KVM-75-09-001 | 09-b | -- | 3938 | 5670 | 38,632 | 55,623 | 6262,8 | 6262,0 | 274 | 274 | 4500 | 5000 | 9,20 | 8,80 | 3,80 | 4,50 |
| KVM-75-09-002 | 09-c | -- | 4992 | 7188 | 48,972 | 70,514 | 7939,0 | 7938,5 | 377 | 377 | 5500 | 6500 | 10,70 | 10,50 | 4,00 | 5,00 |
| KVM-75-10-001 | 10-b | -- | 5560 | 7023 | 54,414 | 68,896 | 7796,0 | 7756,2 | 380 | 380 | 5800 | 6800 | 11,30 | 11,00 | 3,50 | 4,00 |
| KVM-75-10-002 | 10-c | -- | 6682 | 9621 | 65,550 | 94,382 | 10626,6 | 10625,5 | 414 | 414 | 7000 | 8000 | 13,60 | 13,00 | 3,70 | 4,50 |
| KVM-75-10-003 | 10-c | -- | 7560 | 10886 | 74,164 | 106,792 | 12023,0 | 12022,5 | 430 | 430 | 7500 | 8500 | 14,70 | 13,40 | 4,70 | 5,00 |
| KVM-75-11-001 | 11-a | -- | 11764 | 14000 | 115,405 | 137,340 | 18708,7 | 15461,6 | 681 | 650 | 9400 | 9800 | 22,00 | 20,00 | 5,30 | 5,80 |
| KVM-75-11-002 | 11-b | -- | 13463 | 17130 | 132,072 | 168,045 | 21410,7 | 18918,3 | 710 | 694 | 10800 | 11500 | 23,00 | 21,00 | 5,50 | 6,20 |

Gövde Ölçüleri -Overall Dimensions (mm)
| Model Type | Gövde Size | Rif | A | B | C | D | ØE | F | G | L | M | ØN | P | Q | R | S | |
| --- | --- | --- | --- | --- | --- | --- | --- | --- | --- | --- | --- | --- | --- | --- | --- | --- | --- |
| KVM-75-03-001 | 03-b | 1 | 365 | 190 | 208 | 187 | 155 | 90,5 | 96,5 | 100÷105 | 140÷160 | 12 | 4 | 133 | 33 | 40 | 45 |
| KVM-75-03-002 | 03-b | 1 | 365 | 190 | 208 | 187 | 155 | 90,5 | 96,5 | 100÷105 | 140÷160 | 12 | 4 | 133 | 33 | 40 | 45 |
| KVM-75-04-001 | 04-a | 1 | 400 | 210 | 237 | 215 | 182 | 104 | 92 | 120 | 170 | 17 | 4 | 160 | 40 | 50 | 53,5 |
| KVM-75-04-002 | 04-b | 1 | 439 | 210 | 237 | 215 | 182 | 104 | 112,5 | 120 | 170 | 17 | 4 | 160 | 40 | 50 | 53,5 |
| KVM-75-05-001 | 05-b | 1 | 482 | 235,5 | 259 | 258 | 221 | 117 | 112 | 140÷150 | 190 | 18,5 | 4 | 194 | 50 | 51 | 56 |
| KVM-75-05-002 | 05-b | 1 | 482 | 235,5 | 259 | 258 | 221 | 117 | 112 | 140÷150 | 190 | 18,5 | 4 | 194 | 50 | 51 | 56 |
| KVM-75-05-003 | 05-c | 1 | 566 | 235,5 | 259 | 258 | 221 | 117 | 154 | 140÷150 | 190 | 18,5 | 4 | 194 | 50 | 51 | 56 |
| KVM-75-05-004 | 05-c | 1 | 566 | 235,5 | 259 | 258 | 221 | 177 | 154 | 140÷150 | 190 | 18,5 | 4 | 194 | 50 | 51 | 56 |
| KVM-75-06-001 | 06-b | 2 | 650 | 280 | 275 | 280 | 242 | 133 | 149 | 155 | 225 | 22 | 4 | 252,5 | ** | 64 | 30 |
| KVM-75-06-002 | 06-c | 2 | 720 | 280 | 275 | 280 | 242 | 133 | 184 | 155 | 225 | 22 | 4 | 252,5 | ** | 64 | 30 |
| KVM-75-07-001 | 07-b | 2 | 687 | 320 | 315 | 327 | 283 | 160 | 157 | 155 | 255 | 22 | 4 | 284 | ** | 74 | 35 |
| KVM-75-08-001 | 08-b | 2 | 793 | 342 | 342 | 354 | 310 | 172 | 172 | 180 | 280 | 25 | 4 | 311 | ** | 71 | 40 |
| KVM-75-09-001 | 09-b | 3 | 863 | 395 | 405 | 398 | 359,5 | 196 | 175 | 100x2 | 320 | 28 | 6 | 340 | ** | 78 | 40 |
| KVM-75-09-002 | 09-c | 3 | 913 | 395 | 405 | 398 | 359,5 | 196 | 200 | 100x2 | 320 | 28 | 6 | 340 | ** | 78 | 40 |
| KVM-75-10-001 | 10-b | 3 | 926 | 463 | 431,5 | 467 | 412 | 222 | 171 | 125x2 | 380 | 38 | 6 | 398 | ** | 88 | 50 |
| KVM-75-10-002 | 10-c | 3 | 998 | 463 | 431,5 | 467 | 412 | 222 | 202 | 125x2 | 380 | 38 | 6 | 398 | ** | 88 | 50 |
| KVM-75-10-003 | 10-c | 3 | 998 | 463 | 431,5 | 467 | 412 | 222 | 202 | 125x2 | 380 | 38 | 6 | 398 | ** | 88 | 50 |
| KVM-75-11-001 | 11-a | 4 | 1050 | 574 | 515 | 541 | 486 | 268,5 | 196 | 140x3 | 480 | 45 | 8 | 536 | ** | 115 | 50 |
| KVM-75-11-002 | 11-b | 4 | 1100 | 574 | 515 | 541 | 486 | 268,5 | 221 | 140x3 | 480 | 45 | 8 | 536 | ** | 115 | 50 |