Vibration Motors - Briquette Series
0 - 6000rpm 0-100 Hz high-frequency Kem-P KVM/P Series vibration motors are used in briquette machines. Kem-P KVM/P Series Vibration Motors have ATEX II 2D Ext b IIIC T 120C Db and IP66 certificates for applications in hazardous environments with flammable and explosive dust. High-frequency electric vibrators used on construction sites allow you to achieve the best results in product compaction. It is recommended to have a high-density reinforcement inside the enclosure for vibration applied from the outside of the concrete.
Multi-voltage
3ph 42V – 3ph 180/230V / 380/405V
(* tolerance ± 10%)
Variable frequency: 0 to 100Hz
Operating temperature: -20° C / +40° C
Easy to use
Durable design
High efficiency
ISO
CE: EU regulations and subsequent amendments: 2006/42 / CE – 2006/95 / CE;
IEC: Conformity verified according to IEC 60034 standard documents
Building and Construction Sector
Model
Type
Gövde
Size
Devir
rpm
Santrifüj Kuvveti
Centrifugal Force
(Kg)
Santrifüj Kuvveti
Centrifugal Force
(Kn)
Ağırlık
Weight
(Kg)
Giriş Gücü
Input Power
(V)
Nominal Akım
Nom. Current
(A)
42V
Nominal Akım
Nom. Current
(A)
380V
KVM-60-04-P01
04-a
0/100
2000
19,620
38
1800
27,6
2,90
KVM-60-05-P01
05-a
0/100
2500
24,525
43
2200
32
3,50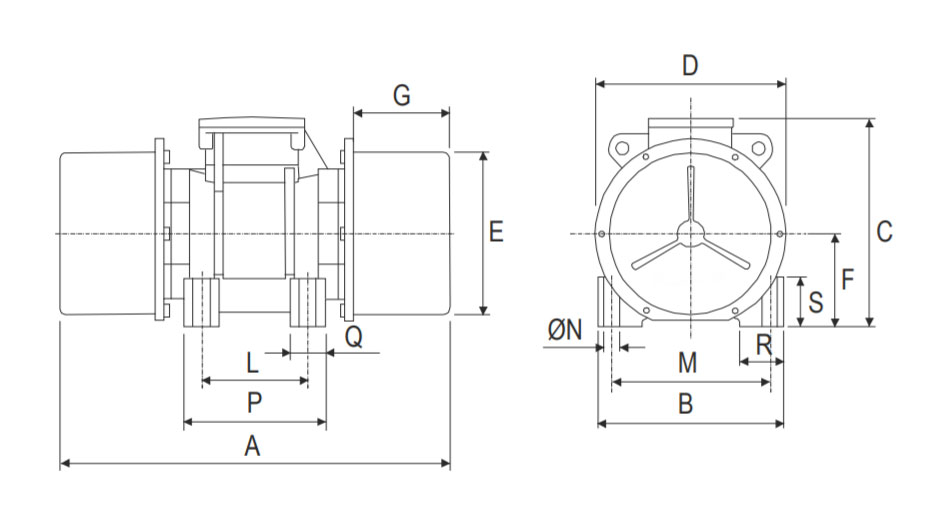 Gövde Ölçüleri - Overall Dimensions (mm)
 
 
 
 
 
 
 
 
 
 
 
 
 
 
 
 
 
Model
Type
Gövde
Size
Rif
A
B
C
D
ØE
F
G
L
M
ØN
P
Q
R
S
KVM-60-04-P01
04-a
--
405
210
237
215
182
104
92
120
170
17
160
40
50
53,5
KVM-60-05-P01
05-a
--
426
235,5
259
258
221
117
84
140÷150
190
18,5
194
50
51
56